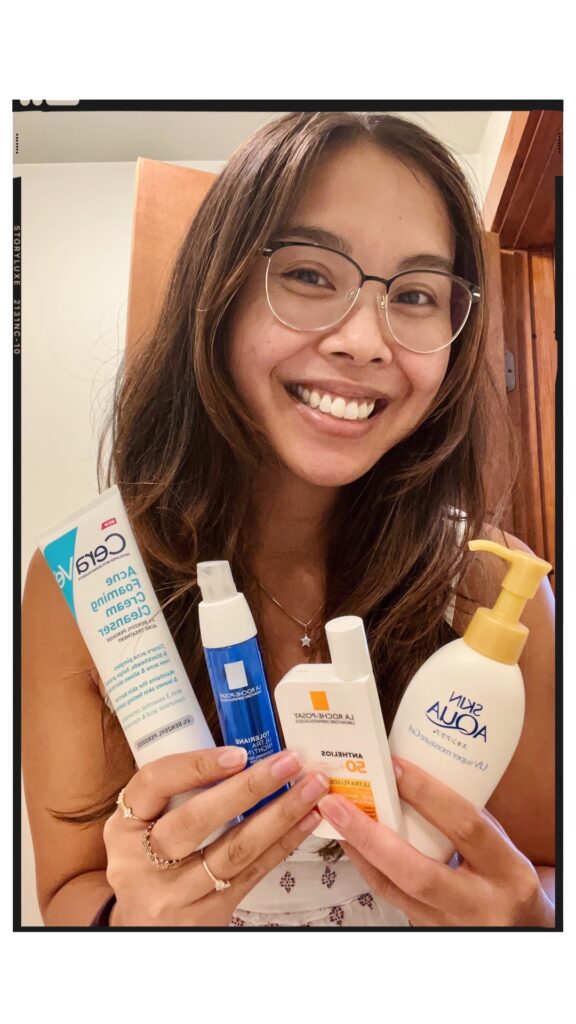 I am really excited to have partnered with my best friend, Mara for this post. Since day one, Mara has been my go-to for skincare questions and product recommendations! I was really intrigued when she mentioned that she has traded some of her more expensive skincare products for the ones we find in Target or the drugstore. It shows you do not need to purchase the most expensive products to keep your skin protected and healthy. What is important is knowing what you need to treat your skin.
This post is part one of two, which focuses on the products Mara has been loving and using and part two will dive more into her routines and tips.
What was the first drugstore product to become your holy grail?
This is really tough because all of my skincare products come from the drugstore now! This isn't to knock higher-end products – I used to swear by Shiseido skincare (they aren't bad but they do not have any fragrance-free products – but their suncare is still SUPERIOR). I think I have to say my holy grail drugstore brand is La Roche Posay with CeraVe practically right next to it. Both of these brands have affordable skincare that includes ingredients and actives that have tons of R&D behind them. LRP is actually owned by L'Oreal and L'Oreal is known for the R&D behind their products, especially regarding their retinol. CeraVe is usually recommended by dermatologists because they are widely available, are fragrance-free (I think 100% but not entirely sure), and they are known for having their three essential ceramides included in their products (Ceramide NP, Ceramide AP, and Ceramide EOP). The product I use every day from LRP is their Anthelios Ultra Light Fluid sunscreen SPF 50 (this is the Canadian version – the SPF 60 can be found in the USA) – so maybe you can say this would be my holy grail product.
What are the key ingredients you look for in skincare?
Generally in a moisturizer, I like seeing a variation of any of the following ceramides, dimethicone, glycerin, niacinamide, HA (hyaluronic acid), and shea butter – things of this nature. HA doesn't necessarily have to be in my moisturizer because I use the serum already. Same with niacinamide – I don't overdo this one and mainly use it in my moisturizers because I don't have them anywhere else in my routine. They're great ingredients but you don't have to have an ingredient of active at every step in your routine. I avoid parfum/fragrance, linalool, limonene, and any and all essential oils.
What are the products that you use?
Products I use in my nighttime routine:
Products I used in my daytime routine:
Products I use after the Gym:
****All these notes are knowledge compiled over time and I am not a dermatologist! Dermatologists are the primary people you should go to regarding skin concerns! I have learned a lot over the past couple years through scientific literature and from watching Dr. Dray on YouTube. There are quite a few derms on social now but I listen most to Dr. Dray (MD – she is a derm; IG: drdrayzday), Dr. Mamina (MD – she is a derm; IG: dr.mamina), and Dr. Michelle Wong (PhD – she is a cosmetic chemist; IG: "labmuffinbeautyscience").