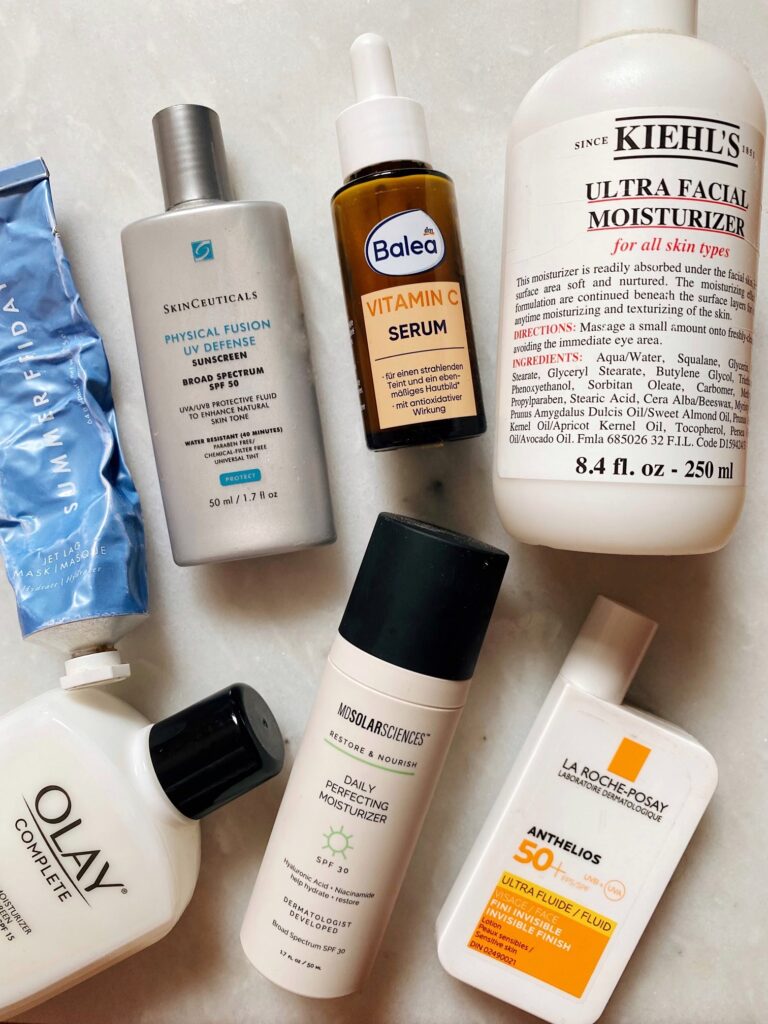 Some of us have extensive skincare routines and some of us may not even know where to start, but one thing I think most will agree on is having a skincare routine that is hydrating and protective of your skin is the most important. There are three types of skincare products that every woman should have within their routine from beginner to advanced.
One thing that I have learned over the years is that skincare does not have to be complicated but it should be consistent to see the best results. I have also known that you do not need to buy the most expensive products on the market to have flawless skin. I recommend taking some time to research what may be right for you. If you can, visit your dermatologist and find out the better products to target any skincare concerns you may have.
The three skincare products that are essential for every day are Vitamin C, a Hydrating Face Cream, and most importantly an SPF.
Vitamin C Serum
I started wearing a Vitamin C serum more consistently once I realized the long-term benefits of it. Vitamin C helps to provide brightness and hydration while reducing the appearance of acne and dark spots. This is a great first step to providing your skin with important anti-aging properties that will over time help reduce fine lines and wrinkles.
A great alternative to Vitamin C serum is the Caudalie Vinoperfect serum. I have used it in my daily skincare routine and under makeup. It is gentle and has similar benefits as a Vitamin C serum. It is hydrating and brightening for the skin.
I recommend the Ole Henriksen Truth Serum. It is not sticky and also wears well under makeup. If you are looking for a more affordable option, La Roche Posay is an excellent brand.
Hydrating Face Cream
Facial creams are a great way to keep your face moisturized and hydrated. Now that the colder weather is coming in, having a good moisturizer in your routine is essential. They help to keep skin plump and supple, along with a way to lock in any skincare serums or oils used. Over time keeping your skin moisturized will help with the appearance of fine lines.
My go-to face cream for the day is Olay Complete Lotion. It wears well under makeup and provides great hydration. At night I love to use Kiehl's Ultra Facial Moisturizer and if my skin feels extra dry, I will add a layer of the Jet Leg Mask.
Some of these hydrating facial creams also have SPF which is a bonus. My favorites are the MD Solar Sciences Daily Perfecting Moisturizer and the Clarins Super Restorative Day Cream.
SPF
SPF is one of the most important products that should be in your skincare routine. Protecting the skin from sun damage and UV rays is the easiest way to keep your skin looking younger. I shared a few face creams that have some SPF formulated in them, however, it is also great to use a mineral sunscreen daily.