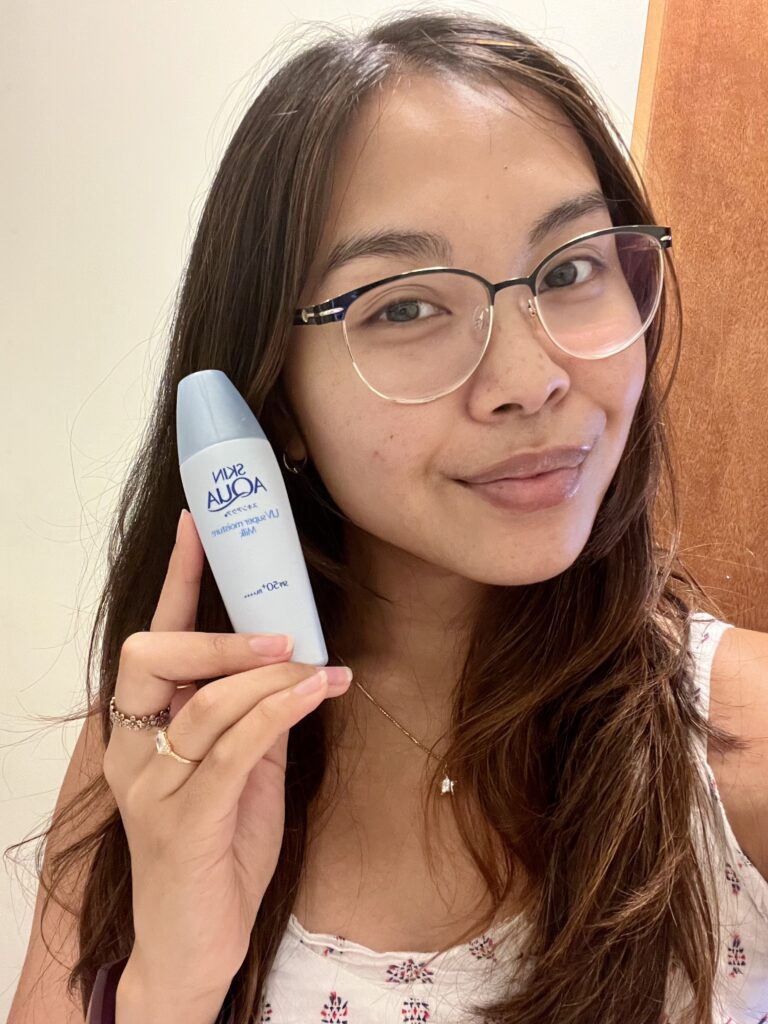 I recently shared a post in collaboration with my best friend, Mara in which she shared some of her favorite affordable skincare products. In this post, she shares her skincare routine with some of the products she previously shared. You can read part one here.
How has your skincare routine changed? What are your focuses?
My skincare routine is more focused now. Before I didn't really think about skincare concerns other than trying to tame my oily skin and treat/prevent breakouts. I also was not very keen on what ingredients were in my products and which ones could help me the most with whatever skincare concerns I had. Oiliness and preventing breakouts is still something I have to consider when choosing which products I am using, but I've also got other concerns such as anti-aging and dealing with overall more sensitive skin.
Keeping my routine basic: 

For nighttime, I've got a cleansing oil/balm to remove any residual sunscreen/oil/makeup on the skin, a cleanser (multiple types for different skincare concerns at the moment), a hydrating serum, and a moisturizer. 
In the morning, I just apply sunscreen right when I wake up, or wash my face with water, apply a moisturizer, then go in with my sunscreen (and always reapply throughout the day!)

Going fragrance-free:

This depends on person-to-person but I have eczema-prone skin so fragrance is not my friend and makes my skin flare – therefore I avoid it. Others might be fine with it and enjoy using fragrance-containing products – that's fine! Fragrance can be sensitizing though… So if you've got a damaged/irritated skin barrier, you could develop an allergy more quickly using fragrance-containing products while having a compromised skin barrier.

Adding in active ingredients when needed: 

Cleansers: I'll use a salicylic acid (SA) or benzoyl peroxide cleanser to exfoliate 1-2x per week – I like the cult-favorite CeraVe Salicylic Acid Cleanser and CeraVe Acne Foaming Cream Cleanser (benzoyl peroxide wash – this cleared my skin and is my go-to around that time of the month where breakouts appear), otherwise I use a more gentle cleanser like the Aveeno Calm+ Restore cleanser when my skin is feeling a little irritated, La Roche Posay (LRP) Toleraine Gentle Cleanser, or La Roche Posay Effaclar Cleansing Foaming Gel during the rest of the week.
Serums: For everyday use, I use the Vichy 89 Hyaluronic Acid (HA) serum – I find this works for me but others and the literature may say otherwise. For me, I've noticed overall balanced and moisturized skin; perhaps a slight plumping effect but there's no way of actually seeing if that is real unless we look under the microscope – haha! Another serum I like is the CeraVe Resurfacing Retinol Face Serum. This has been a game-changer for my hyperpigmentation marks from previous acne scars – I use this once or twice per week in place of the HA serum. It has more moisturizing ingredients to combat the dryness retinol can cause to the skin – particularly if you're new to using retinol. I've tried and used for quite some time the famous Estee Lauder Advanced Night Repair (and still circulate it in my routine from time to time) – let me say it is pricey but I did enjoy using it. I think it does help your skin improve in radiance, elasticity, overall skin texture, and skin evenness. 
Spot Treatments: Used to spot-correct problems such as blemishes. I've got an SA spot treatment (CeraVe Acne Control Gel – this also has Glycolic and Lactic Acid) and a benzoyl peroxide treatment (LRP Effaclar Duo Acne Spot Treatment). The SA spot treatments can actually be used to prevent pimples too, so you don't have to stop using them once the blemish has gone away. I use BP just on active breakouts because it can be quite drying to the skin, but it zaps zits away quickly (1 – 2 days!) for me.
Creams: These are not necessarily actives but some ingredients I look for in moisturizers are ceramides, dimethicone, glycerin, or squalene. All four of these ingredients are moisturizing ingredients that help draw in or retain water in the skin to keep it moisturized. I like the CeraVe Moisturizing Lotion, CeraVe Moisturizing Cream, Vanicream Moisturizing Lotion/Cream, LRP Toleraine Ultra Overnight Cream, LRP Toleraine Ultra Face Moisturizer for Sensitive Skin (this one is not formulated with niacinamide which people sometimes experience burning when their skin is irritated).
Other actives: These include those in chemical sunscreens (Avobenzone, Homosalate, Octisalate, Octocrylene, Mexoryl) or physical sunscreens (Titanium Dioxide and Zinc Oxide).
Shop This Post
Other Products Mara Loves
CeraVe Healing Ointment – I like to use this in the winter to "slug" which just means to put this on your skin as the last step to fully seal all your skincare in. The results are radiant, soft, and supple skin. I also use this under my eyes as the last step all year round to keep hydration in that delicate area – nighttime is known to be the time when skin can lose the most moisture. Over time I've noticed fine lines under the eye have smoothed out. It's comparable to Aquaphor and Petrolatum Jelly so you can use it on the face or body – I also use this on my lips and when my hand (dyshidrotic) eczema has dried up.
LRP Cicaplast Balm B5 – The holy grail for dry and/or irritated skin! You can use this if you've got some skin irritation right after you cleanse and before you moisturize or… I find this balm to be great for post-waxing on the face and body. I've even used it in the bikini area – just be sure to keep things external…
Body care (most of the products especially moisturizers I listed can be used for the face and body but these might cater more to your body):

LRP Lipikar Balm AP+ – This has the National Eczema Association (NEA) stamp! This is the richest cream/balm and it does leave a more oily residue on the skin, but this is crucial for extremely dry skin like those of us with eczema. Maybe not ideal during the day, but I slather up in this at night! 
Vanicream Moisturizing Cream – I mentioned this briefly above but this could be the alternative hand/body cream you use during the day that is also eczema friendly. It's rich and creamy but absorbs quickly into the skin and doesn't leave an oily residue behind.
Uriage Protecting Lip Balm – FAVORITE lip balm ever. Keeps the lips so soft, even helps with windburn, AND I can get eczema around my lips – this soothes it all away.
Uriage Xemose Cleansing Soothing Oil – If you need a body cleanser that will clean your skin without drying it out… this is your friend. I use this in the shower and to wash my hands. It cleans without stripping the skin of its natural oils and doesn't have any harsh surfactants in the formula.
Panoxyl – This is a benzoyl peroxide wash that you can use on the face or body. This is especially good if you have body acne such as "backne" or "chestne" – I told my boyfriend to use this for his back and it cleared up within a couple of days! Benzoyl peroxide is also helpful in fighting body odor so if you've got sweaty, kinda stinky armpits… give this wash a try. Note that it works best if you lather it into the skin and leave it on for a minute or two (this goes for all cleansers especially those with actives in them).